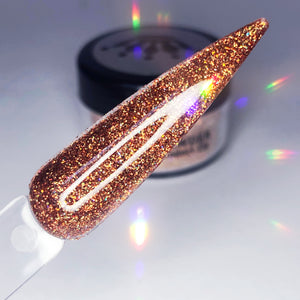 Introducing 𝗙𝗶𝗿𝗲𝗰𝗿𝗮𝗰𝗸𝗲𝗿 from the Jewel collection
Give this one a little shake before you use. Gorgeous mix of bronze & copper tones with hologram glitter flecks. 
TIP : Cap your Firecracker with a clear coat of acrylic to give that encased finish (ie no scratches to the glitter when filling) 
This colour works great as an ombré nail with Gatsby. 
Follow us on Instagram & Tiktok for some creative videos using our nail products.