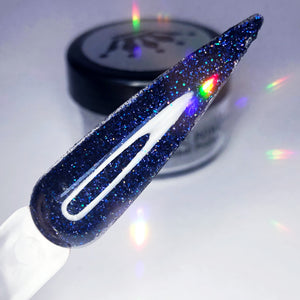 Introducing 𝗠𝗶𝗱𝗻𝗶𝗴𝗵𝘁 from the Jewel collection
Give this one a little shake before you use. Dark shades of blue glitter mixed with a hint of black. For those who love dark nails but with a subtle shimmer.
TIP : Cap your Midnight with a clear coat of acrylic to give that encased finish (ie no scratches to the glitter when filling) 
Follow us on Instagram & Tiktok for some creative videos using our nail products.