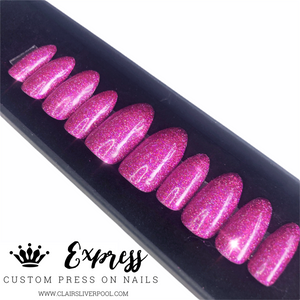 Hand painted with CND Shellac or Candy Coat Gel polish, these are not your ordinary press on nails. Some are painted with heat colour changing gel, adorned with Rhinestones and topped with foil and glitter. We have neon, ombré, unicorn, mirror chrome, super holo, UV reactive coatings and many more! Each set is unique and hand made by Clair from Clairs Liverpool HQ, Clairs Beauty Salon (nail technician of 20 years). 


Each set comes with gel pads (for one time use ie for a wedding or special occasion) and a glue which will hold them for up to a week. The nails are reusable and can be filed to fit your nail bed. 
Sterilising wipes are included to clean your natural nails and a cuticle stick to push your cuticles back before application & a professional grade nail file. 


Different lengths, widths & styles will be uploaded as soon as they are ready. So keep checking back. 


Shape : Almond
Length : Med
Width : Small to Medium nail beds 
Colour : Tutti Fruitti CND Shellac with our most popular Lecente glitter, boysenberry! So glittery!!!