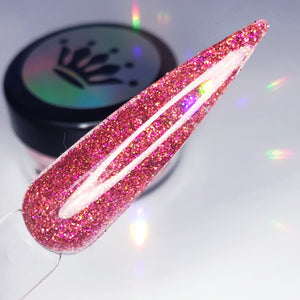 Introducing 𝗥𝗼𝘀𝗲 𝗔𝗹𝗹 𝗗𝗮𝘆 from the Jewel collection. 
Give this one a little shake before you use. A pinky coppery glitter acrylic with multi flecks of hologram glitter. 
TIP : Cap your Rosè all day with a clear coat of acrylic to give that encased finish (ie no scratches to the glitter when filling) 
Follow us on Instagram & Tiktok for some creative videos using our nail products.