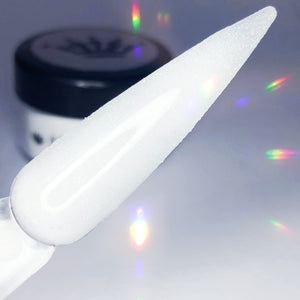 Introducing 𝗦𝗻𝗼𝘄𝗳𝗹𝗮𝗸𝗲 𝗦𝗵𝗶𝗺𝗺𝗲𝗿

Opaque white with AB hologram glitter. Finish with a super glossy gel topcoat for best results.
TIP: Make a custom mix with a scoop of Snowflake Shimmer and a scoop of any of the Sheen collection colours to create a pastel shimmer acrylic. Endless options. 
Follow us on Instagram & Tiktok for some creative videos using our nail products.